| | | |
| --- | --- | --- |
| | | |
One of the great ruminations of football kit design is the concept of multi-purpose shorts and socks.  That is to say, shorts and socks that suit, generally speaking are designed to suit, at least two of the outfield shirts in any team's season wardrobe.

There is a call for flexibility in this area due to greater emphasis than ever before being put on the avoidance of the "overall clash".  The implication seems to be that when two teams face-off they should not appear, even in the blink of an eye, to be similar in the way they are turned out.  This dictates that, occasionally, the intended and marketed combination of shirt, shorts and socks is inadequate.
Interchangeability is a concept, along with its contrary nemeses, which splits opinion.  In one corner, the traditionalist: logical, resourceful and considerate; seeing the benefit and good sense of giving each item most use and most function, thinking of the consumer buying not a pair of Home shorts but a pair of Home/Away, maybe even Home/Away/Third shorts - Utility shorts, if you will.
---
In the opposite corner stands the unrelenting and uncompromising sportswear designer.  He sees each kit as a work of art, a creation which shouldn't be shackled by any element needing to equally complement a design on another drawing board.  The marketeer agrees with the designer.  More items on sale and/or less flexibility of combinations means more money passing through tills - or so goes his logic.

As covered in Denis Hurley's seminal work, Mix and Mismatch, there are countless examples of missed opportunities for those wishing for interchangeability.  Umbro and England are serial culprits, admittedly not releasing Home and Away kits at the same time but giving each "change" shorts when a little foresight would have rendered the opposite kit's shorts acceptable.  The recent schizophrenic and multi-faceted Home and Goalkeeper kit launch - each featuring red shorts and socks of identical style but slightly differing shades - was an end of level boss in the Quest for Interchangeability video game.

Ditto Brazil releasing two pairs of blue shorts with their new kits - Home with a white stripe, Away with a yellow one.  Perversely, they are actually interchangeable, as when required to wear their blue Away socks with the Home shirt (brownie points...) the side planned to switch to the Away shorts for aesthetic purposes (...stripped).  Why, when this exact scenario unfolded in the thrilling loss to Argentina, they still turned out in their Home shorts is a question for their kitman.

Denmark demonstrated no such twisted accession in a pre-Euro 2012 friendly against Russia, wearing white change Away shorts, rather than the Home shorts of an identical template and colour palette.  In the tournament, however, they instead did wear their Home shorts with their Away shirt and vice versa as, I wager, Uefa and Fifa take a dim view of any team bringing more than one pair of shorts in each colour - further outlined by Germany wearing their Home shorts in their 2010 World Cup demolition of Argentina.

And this is what the interchangeability movement aims to stamp out.  Denis Hurley erroneously titles his article Mix and Mismatch whilst calling for continuity and conformity.  Is it necessary when we can crowbar interchangeability?  The mismatch is what gives a look some bite.  Liverpool in red shorts and socks with grey shirt against Arsenal looks wrong but becomes a guilty pleasure.  Uniformity may please us on some level but eventually washes over us.  Kit uniformity is the opium of the people, whereas mismatching gives us the rhubarb in the crumble or the dill pickle in the cheeseburger.  Mismatching is the extra-marital affair which revives a dull union.

Of course, comprehensive mixing and matching would also spell the end of one of the football kit world's great rarities, the change item.  Often superfluous and seldom, never or needlessly deployed - as in the case of Manchester United eschewing their gingham Away shorts to wear black Home change versions -  it remains a curiosity that excites.  I own a pair pink-slash-orange Barcelona shorts and without change items I would not, though to debut a kit with change shorts rather than those readily available to fans, as Olympique de Marseille did at the end of last season, is an insult.  I somehow doubt they were merely, in fact, the standard Third shorts turned inside out.

It's also worth considering the designers' argument.  Sometimes two items in the same main colour are justified.  Take a popular FC United of Manchester kit recently uploaded to the DF gallery.  The two sets of socks are perfect complements to their respective shirts and (apparently interchangeable) shorts.  Still the designer realises his faux-pas and comments that he is "Now aware of two different black socks. So would probably do the Home kit with Red socks."  No need.  This is where change socks can come in.

All the same, let's indulge the Holy Grail.  Denis Hurley makes a convincing case and illustrates his point well, even managing to limit the shorts and socks to two pairs across three kits.  Italy had interchangeable Home and Away shorts and socks in Euro 2012 and Hibernian in 2009-10 - a bizarre season of Hibs kits which is sure to be revisited - elected to release only one pair of shorts amongst Home and Away outfits, perhaps as a reaction to neither Celtic nor Rangers ever needing to change shorts when playing each other.  This season Marseille (them again) had the good intention of wearing blue socks with their usually all white Home kit and white socks with their blue Away though what many would describe as common sense is gradually prevailing and, ahem, the old switcheroo is being pulled.  Staying in France, oh how I would love to see the French national team turn out in Home shirt, Away shorts and red goalkeeper socks - a de facto product of interchangeability as it would be a sin to describe the traditional look as "mismatching".

So interchangeability can work, but Denis neglects two vital points.  Firstly, in the cases of Arsenal, Liverpool, Real Madrid and others there is a point-blank refusal to wear any other shorts than the Home versions with their Home shirt.  So any production of Away and Third shorts compatible with Home shirts would be a waste.

The other issue is more general, if somewhat theoretical.  If we take interchangeable kit sets as being a season-by-season phenomenon, we have to consider that for many, including myself, the definitive approach is the release of new Home and Away kits each season and the carrying over of the previous season's Away kit as a Third kit - often with a new sponsor or even a new crest.

So we have another factor: cross template interchangeability.  A tricky procedure just got a whole lot trickier and one that for any bog-standard mathematician would be a bridge too far.  I, however, recently disproved the logic of The Big Bang Theory('s Sheldon), so it'll be a doddle.

Football kits often progress in stages, such as our good friends Marseille's Home shirts from 2004-2006 (wait for it...) and interchangeability could follow a similar model.  New Home and Away kits would unveil new template features but still retain some of those included in the previous season's Away kit and so the pattern repeats.  It's a stretch, and some might argue there's some mismatching involved, but DF member Steevo has very kindly fried his brain illustrating the process below, showing Home, Away and Third kits over three seasons from bottom to top, which provides 27 possible combinations every year and means every Away item has the potential to be utilised in 17 different outfits over a biennial period: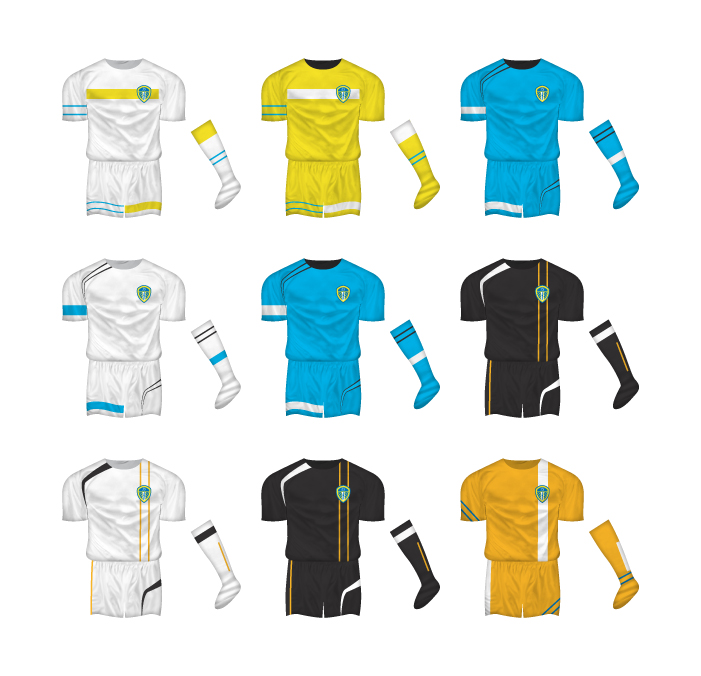 So interchangeability is possible, doable and maybe even viable.  But should it be implimented universally?  Never.  For everything we gain in functionality - and there is a strong argument to suggest that overall shorts and socks sales would increase if each style released was multi-function - we would lose some unique identity ingrained in each and every new kit - not to mention the occasional anomalies of mismatching instigated by necessity.  More instances of interchangeability being re-adopted would be welcome, but at the expense of all "change" items and mismatching - therefore "doubling up" to the detriment of creativity - would be a crying shame. 

Follow Jay29ers on twitter