| | | |
| --- | --- | --- |
| | | |
Everyone loves a good backlash. Whether it be against our work changing their staff car parking policy or our government raising taxes, even if deep down we agree with the reasoning we love to get up in arms about the decision. It works in football kit design too.
Recent days has seen the leaking and/or unveiling of several new football kits. Firstly we saw Barcelona's new pink - honestly - away shirt by Nike. It might look orange but whatever the colour it turned many people nauseous green.
adidas were then quick to get in on the act, even if it was unintentional - make up your own mind - as the world got to see the template-happy kits of Ukraine, Real Madrid, Bayern Munich and Chelsea and found they were of the same style as examples from the upcoming MLS season. That batch of strips was far from universally well-received anyway and do top European sides not deserve completely bespoke outfits?
Also witnessed have been the
new Russian designs
which, despite having the "rugby on bicycles" template complemented by flattering colour-schemes and traditional crests, were panned by many, and the
randomly white-collared Milan shirt
. The latter is a traditional shirt which doesn't keep to a new modern fit-for-all style but, again, people aren't unanimously in support.
The reaction to these shirts has been enormous. Even German newspaper Bild got their two penneth in and whilst there were encouraging comments by some, the overall common consensus was that they fell short. Damning.
But then it stepped up a notch. The new England shirt was leaked. Modern, ergonomic, futuristic, subversive, condemned. Not for a long time have I seen a shirt face so much in the way of opposition. If you have a couple of days spare then drop by footballshirtculture.com and read through the comments.
The internet might be wrong, each kit could be, as adidas say, "one of several different proposals". Certainly, the England shirt is due to be released on April Fools' Day so Umbro could be playing some elaborate prank but, all in all, I doubt it. I think the majority of these shirts will be seen on European football pitches next season and it makes you wonder how much R is going into these sportswear giants' R&D.
I hate to labour a point but, alright I love it, give it to the fans and the fans'll get it right. Fans of kit design, fans of the football teams in question, fans of football can give the input required to make a strip those exact same fans will break down the doors to purchase on the day of release. This is why so many clubs set up votes to determine which kit they'll wear each season.
The first club this season to allow input from fans (for next year's designs) was Ipswich Town back in September. Then via Coventry, Leicester and Watford we got to the recent Crystal Palace vote which even brought onboard Nike when they became The Eagles' new supplier.
But this is not a perfect system. The votes can always be sabotaged and the Watford example would have been improved by allowing fans to mix and match the shirts with shorts. It's ridiculous that the red and yellow shirt couldn't be coupled with the black shorts. Also, in the case of Palace, many supporters were angry that they had to choose between a shirt they hated and another shirt they hated, but let's not run before we can walk.
When we go to a restaurant we don't go and cook our favourite meal in the establishment's kitchen but instead we choose between expertly created dishes to find something we like the look of rather than something we can't stomach. Imagine going to a restaurant on, well, The King's Road, and being told there was no menu and no choice but to have the experimental special.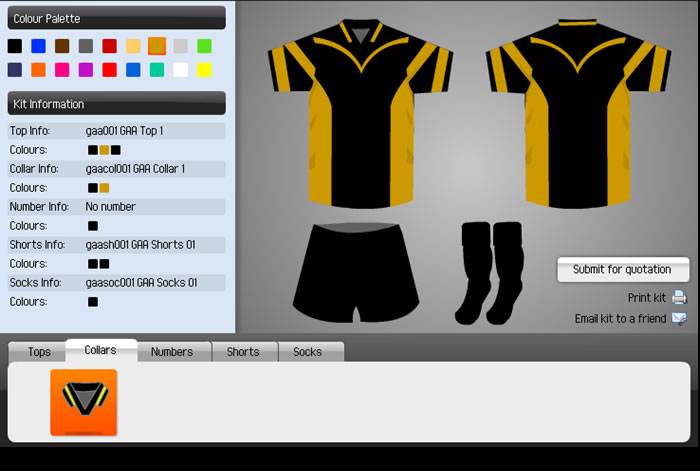 One day we may be collectively invading adidas, Umbro and Nike's kitchens and cooking up something we really like - just search the galleries on FSC and DesignFootball.com for the likes of "Chelsea" to see the potential - but until that day, just let democracy prevail.