| | | |
| --- | --- | --- |
| | | |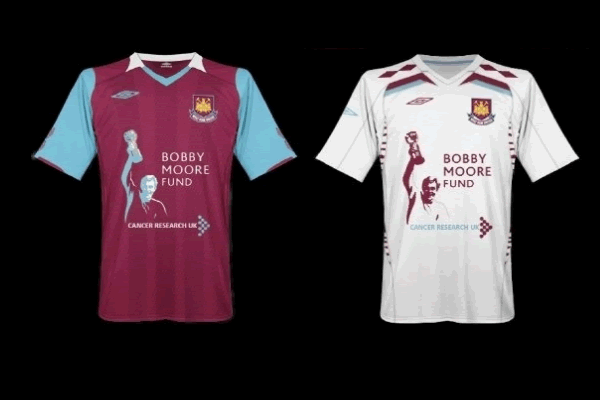 By Jay
This week, English Premier League team West Ham United are due to announce that they will soon be wearing a new sponsor on their shirts.
The sponsor, SBOBET, is a gambling company currently under investigation following match-fixing allegations. So pretty far removed from the Bobby Moore Fund, which West Ham's fans campaigned to be featured on the shirts.
From an aesthetic point of view, let's be honest about this, it's gonna be boring. Yet another soulless graphic advertising an organisation that (despite the disproportionately high amount of unethically opportunistic bookies in Newham) means precisely nothing to the supporters, plastered on shirts on the pitch and in the stands. The Bobby Moore Fund logo is not only what the fans wanted but is also a worthy cause and just looks better.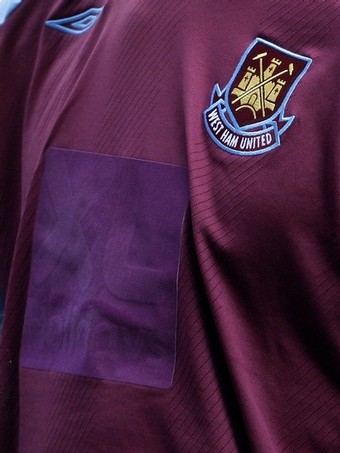 This whole shambles has left a bitter taste in the mouth. When XL went bust the campaign for the BMF option kicked in straight away. Instead of telephoning one of, no doubt, dozens of printers who would have manufactured patches to be stitched over the sponsor for nothing, West Ham instead put a clashing blank purple square over it. We're not gonna skirt around it, the players looked like muppets, but even worse was to follow.
Subsequently, West Ham have been wearing a hilarious squad number patch over the XL logo (er, the squad number doesn't go there. Why do you think the Umbro logo is so high up? Go figure), now for A MONTH AND A HALF! I mean, how bad is West Ham's deal with Umbro that they can't even get some blank shirts sent over? If they couldn't get blank shirts then why wasn't the BMF logo put there instead? Well, as I understand it, reading between the blurred lines apparently drawn by someone with a BA in obtuseness, FA rules state that only two sponsors can be worn by a team in any given season, so because West Ham wanted to enter into another commercial deal this season they couldn't have the BMF on there even for the interim. Now I haven't seen this rule, I can't find it. I did find this:
Advertising on Player's wearing apparel is permitted providing such advertising complies with relevant regulations as determined by The Association from time to time in force.
Even if this isn't related, I think "regulations as determined by The Association from time to time" sums it up brilliantly. Obviously West Ham don't want to rock the boat with The FA at the minute with everything that's going on but, Jesus, the West Ham fans wanted it, it was supported by other fans (hello! MILLWALL!) and the law is an ass. They didn't even have to sell the thing.
They should have put the patch on and gone: So. Sue. Me. Worst case scenario they would have had to've kept it for the whole season, sold millions, made the fans happy, not had to have had a gambling company on their shirts (and here's the irony, they're gonna now have to get blank kids shirts because of gambling advertising laws) and altogether known that they had done the right thing. They've broken the rule anyway as this season as, as I see it, they've been sponsored by XL, east London's famed Aysha Fabric House ("Yeah, ten metres of purple please."), 118 118 (or The Essex County Schools Athletics Association, depending on your viewpoint) and now SBOBET.
It could come back to haunt them too. There's already work being carried out towards both launching alternative (and pretty stylish) supporters' shirts carrying the BMF logo, and patches to stitch over XL or SBOBET. Whilst I do have to make it very clear that I'm fully aware of the commendable efforts that WHU have gone to to support the BMF and that the two organisations have an excellent relationship, I just feel that West Ham and The FA have contrived to drop the ball on this. We put poppies on the shirts so who gets hurt by a charitable organisation's logo being worn by football team for a couple of months?