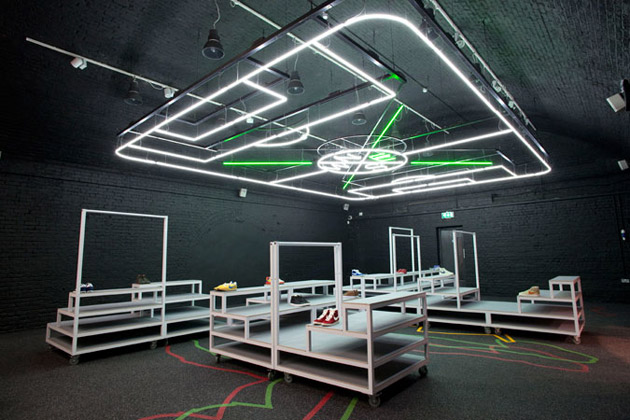 1948 is neatly tucked away between Shoreditch High Street and Curtain Road in East London.
The store, which is also a gallery space and a social meeting point, is the best place to check out the new NSW Collection as well as 'Tier Zero' products. It's part retail outlet, part creative playground.
The NSW Collection which launched last year is based on the radical idea that sports folk and creatives aren't that different - they both share the same rooted desire for freedom and self-expression. The 1948 Space is built around that idea, with collaborative projects going on throughout the summer including a special series of installations exploring the notions of community through sports - especially street sports - and art.
Key to this space are the regular events and on-going projects which will take place throughout the summer - many of which are run by sports people who like creating and, likewise, creative people who like sports...
Reopening on Friday 20th February with a retail installation by Oscar and Ben Wilson entitled 'Raise The Game'; the former disused railway arch is once again completely reincarnated. The installation features a 6 x 8m neon football pitch inverted on the ceiling and a series of bespoke, modular display systems which reference tiered stadium seating. Easily interchangeable, they shift and flow to suit the space. The floor is now created by Nike GRIND, a 100% recycled rubber sports surface made up from the soles of old trainers. Approximately 15,000 pairs were used for this space alone!
The whole idea is like a kind of private members club in which you don't have to be a member to join in. In other words it's about getting involved, hanging out and maybe picking up something amazing to wear occasionally too.
1948 Opening times:
Thursday
11.30 - 18.30
Friday
11.30 - 18.30
Saturday
10.30 - 18.30
Sunday
11.30 - 17.00
Nike 1948
Arches 477/478
Batemans Row
Shoreditch
EC2A 3HH