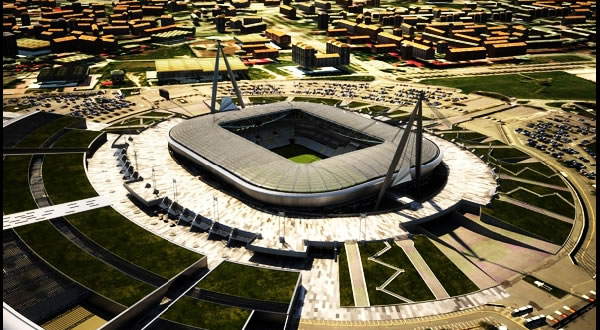 Thursday 20th November 2008 is a date which will become a milestone in Juventus history. By means of a presentation held at the Gianni Agnelli Auditorium at the Lingotto, the club launched the project for the new stadium which is to be constructed instead of the Delle Alpi and which shall become the new home of the bianconeri as from the 2011/2012 season.

The stadium will be entirely dedicated to football to allow the best conditions possible prior to the matches. Spectacle will be a main attraction thanks to the great visibility from all 40,200 places and top-notch safety and security. The building will be open seven days a week thanks to a commercial area.

The new stadium is born thanks to the work of a great team. Architects Hernando Suarez (Studio Shesa) and Gino Zavanella (Studio Gau) designed the stadium; engineers Francesco Ossola and Massimo Majowiecki were responsible for the structural planning, operations planning and directing the structural works.

The team also consists of  architect Antonio De la Pierre (project coordination), engineer Marco Lazzerini (mechanical installations), engineer Renzo Zorzi (electrical installations), architects Eloy and Stefano Suarez (architectural planning). Project management was conducted by Al Group of Turin, under the responsibility of  its president, engineer Paolo Erbetta.

A fundamental contribution was made available by two great Italian design firms : Giugiaro Design and Pininfarina Extra. Juventus in fact turned to Fabrizio Giugiaro and Paolo Pininfarina to add a stylish design to the project as a witness to Turin's excellence in the sector.

Architect Alberto Rolla (Studio Rolla) took care of the commercial area and the urban sector.

The stadium project had been officially approved by the Juventus executive committee (CDA) on the 18th of March for a total investment of approximately 105 million Euros. Expenses of such an extent will be relying on three pillars, said Juventus general director Jean-Claude Blanc during the last share-holders meeting : the agreement with Sportfive, the commercial side and the loan with regards to which a dialogue was opened with the entity responsible for sporting credits.