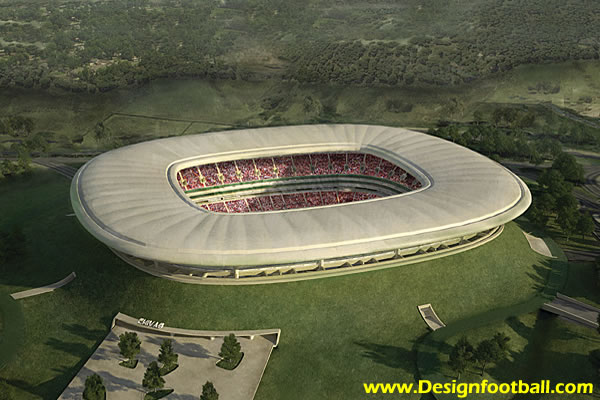 Chivas new home stadium is under construction and will be tentatively named Estadio Chivas. This stadium will have the form of a volcano with a cloud on top as the idea of the design is to integrate the stadium with nature due to its ecological design and closeness to a forest area also becoming part of the future Conventions and Business JVC Center.
The stadiums seats will be colored red except for the loge seats which will be color white. It will also have a large main entrance and 18 exits for a secure evacuation in case of an emergency and faster way of exiting the stadium .
The new football stadium will have a minimum capacity for 45,500 seats to maximum of 54,500. An underground parking lot will be capable of holding up to 8,000 cars.
The new stadium will also have a restaurant with a capacity of 200 people and also has a view of the field while the game is being held. The construction of the stadium is in charge of Ingenieros Civiles y Asociados who won an 81 million USD construction contract for the edification of the stadium after finishing the foundation in January 2008. The stadium is expected to be finished by 3rd Quarter 2009.
Volcano Stadium
Chivas - Omnilife
Guadalajara, Mexique 2009
Stade de football
Arch.D.Pouzet
Inauguration prevue en 2009
Dimensions
Surface: 110,000 m2
Capacite: 42,250 places
Amenagements
340 suites (3500 places)
Chivas club (500 places)
2 magasins
50 buvettes
1 restaurant
1 coiffeur
1 musee
1 espace de jeux (pour 450 enfants)
1 parc de skateboard
1 parking (750 voitures)
Budget
100 M us $
Architecture technique: HOK+SVE
Structure: Luis Bozzo Estructuras SL