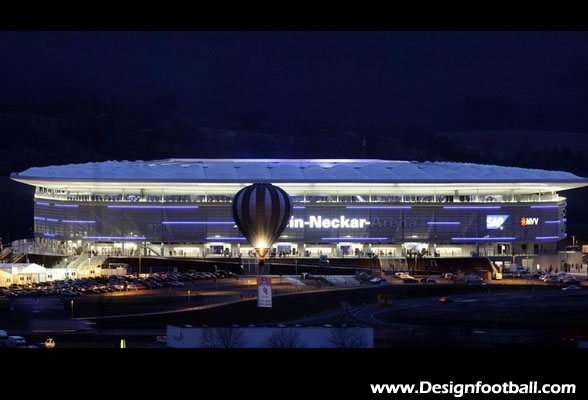 1899 Hoffenheim officially opened their new stadium - the Rhein-Neckar Arena.
The new stadium of 1899 Hoffenheim in Sinsheim is a lighthouse for the Metropolitan Region. The Groundbreaking Ceremony was on May 25th in 2007. The planned finishing of the stadium was in January 2009.
The total capacity will be 30,180 roofed places for spectators. This number includes 9,210 places (maximum) in the standing room and 25,575  being seated (maximum). The hospitality area will spread over three levels with 1,300 business seats and 40 business loges. Furthermore there will be a fan pub for about 400 people. The visitors will find 2,500 parking places next to the stadium and 2,100 more places nearby.
The new stadium of 1899 Hoffenheim in Sinsheim is right by the A6 and with its excellent infrastructure waiting for the first division of the German soccer league and for the Women`s World Championship in 2011