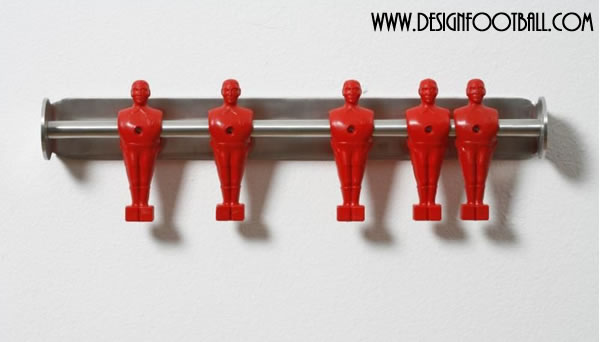 Offside is a humorous, stylish wall mounted coat hanger incorporating a row of football players. Taking its inspiration from table football, young Norwegian designer Runa Klock has added a female twist and a new function to this popular game by turning the players into hangers. With hidden wall mounting, the 5 players tilt and move sideways to make room for bulkier clothing. You will NEVER see anymore shoes, jackets or bags lying down the floor!
Manufactured in stainless steel and recyclable plastic. Colour options: red & stainless steel, red & white, green & stainless steel, blue & white and green & white.
Runa Klock is a product and furniture designer based in Oslo, Norway. Her designs have been shown on a number of exhibitions and "offside" is her first commercialised product.