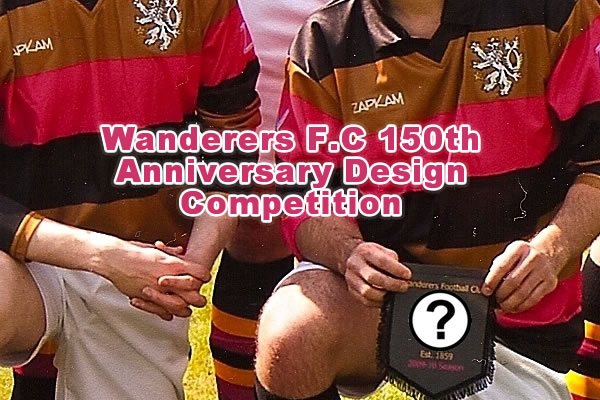 To mark the 150th Anniversary of Wanderers first ever match, a competition has been launched to find a new badge for the club.
On March 15th 1862, 15 men took a field near Leytonstone under the name Forest FC to play Crystal Palace FC.

Over 400 games and nearly 800 players later and Forest FC had transformed in Wanderers FC - the pre-eminent team of the Victorian era, when football became organised and regulated. The reforming and philanthropic gentlemen of the age dragged violent inter-village rabbles into a popular pastime for the upper and middle classes in the south and the working men of the north.
150 years after that first game, Wanderers, in their reformed guise, have decided to commemorate these early beginnings with the launch of a competition to design a new badge for the club. Until the 1950s, most teams did not wear badges on their shirts but as so many clubs become known for more than just football, a symbol to represent the Corinthian ideals and heritage of Wanderers is required.

Those 15 first players beat their opponents 1-0 but, unlike football, there can be more than one winner in the case of this contest. You are invited to submit your designs by the 30th of April for the chance to win one of three prizes.

1st Prize; £200, a club t-shirt, a Wanderers club history book, use of your design as detailed in this brief, promotion of your portfolio via our media platforms, a written testimonial and an opportunity to purchase any items bearing your design at cost price plus postage

2nd Prize; £75 and a club t-shirt

3rd Prize; £25

Submissions should take into account the guidance notes in the PDF (follow this link) and be sent to This e-mail address is being protected from spambots. You need JavaScript enabled to view it .

The winning design will be announced on the 3rd of May.
Good Luck